This month has continued what has already been a very busy spring.
The first week of the month saw me in Diss taking out a wall between an existing kitchen and dining room, fitting a steel beam to hold up the rest of the wall and roof, whilst still looking after other jobs being completed at my Hedenham site.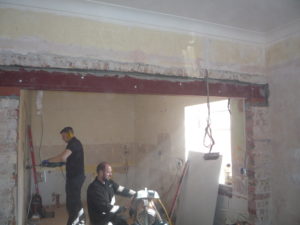 I also supplied and fitted temporary walling in the church of St Francis, Heartsease, Norwich whilst major building works get under way.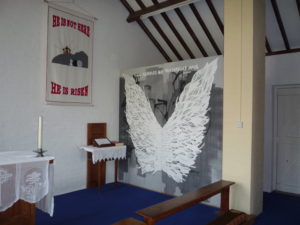 During the remainder of the month I have been continuing with the process of revamping the outbuilding in Hedenham. These works included fascias, guttering, downpipes, boarding out the canopy roof, bricking up doorways, surface water drains into a 60′ well, insulating and plasterboarding summer house ceiling, battening, insulating and plasterboarding summer house walls, as well as some internal works to the main house.
To see more photos of work done this month at Hedenham, click here.
Following receipt of planning approval I have also now been booked to complete a double garage conversion in Wymondham.
Note to self: must try harder to get jobs closer to home!