This month's work involved converting the back half of a garage in Fairfield Close, Little Plumstead, into a dressing/relaxing room to accompany the outside sauna (being fitted by others). Work included removing existing personnel door from garage, bricking it up, taking out a window and the fitting of timber French doors and frame. Walls and ceiling were insulated before being clad with pine tongue & groove boarding.
Other works completed include the hanging of 9 internal oak doors complete and replacing the kitchen worktops in Devon Avenue, Hellesdon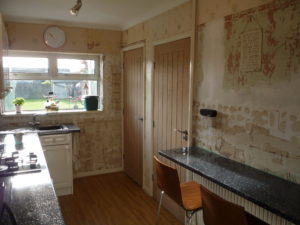 and finishing off bathroom and other works at Grange Close, Hoveton, before first baby arrived (so early that no photos have yet been approved!).
I also completed 2 jobs for a Norwich Bathroom & Kitchen company, fitting a new bathroom door, newel post and handrail at Wramplingham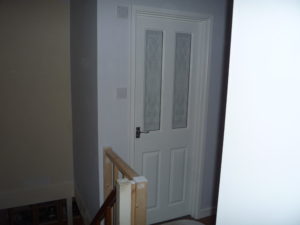 as well as removing an existing bathroom window, fitting a new and smaller window, brick and block up as required at Victoria Close, Taverham.